CryptoStorm VPN Review
Our rating
Security
Read more
Features
Read more
Try it now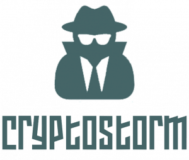 English e-mail support

No chat support

No phone support
CryptoStorm markets itself as the VPN for the truly paranoid, and it lives up to this reputation. This VPN is dedicated to flying under the radar and helping its customers to do the same. It's so private that it's difficult to source any specific company information, such as when it launched or where the company headquarters are based. The interesting part? This is all by design. The company website states that it is a decentralized organization, so there is no main office address.
In this CryptoStorm VPN review, we look at everything you need to know about this super-secretive brand. We cover aspects such as the privacy and security features, the compatible devices, the costs, and more. Ultimately, we conclude whether or not CryptoStorm VPN is something you should invest in. Keep reading to find out more.
Pros

Free VPN service
Security and privacy focused
Ad and tracker protection
Cons

Complex setup process
Tiny server network
No money-back guarantee
Price Starting At:
4.33 $ / monthly
52 $ / annually
For New Users:
No money-back guarantee
Capabilities
Unlimited Bandwidth
Kill Switch
Split Tunneling
Zero Data Logging
Free Version / Trial
Mobile App
Firestick Compatible
Payment options
American Express
Bitcoin
Mastercard
Mastercard Debit
Paypal
Visa
Visa Debit
Visa Electron
Geolocations available
Austria
Belgium
Bulgaria
Canada
Czech Republic
Denmark
Finland
France
Germany
Hungary
Iceland
Ireland
Italy
Latvia
Moldova
Netherlands
Norway
Poland
Portugal
Romania
Serbia
Slovakia
South Korea
Spain
Sweden
Switzerland
United Kingdom
United States
CryptoStorm VPN Security
It's no secret that CryptoStorm's most significant selling point and largest investment is its commitment to security. It all begins with the fact that the company doesn't even have a headquarters. As a result, its company data is top-secret, which means that the user data is too. In fact, minimal information is collected during the registration and payment processes, and you can even pay by Bitcoin for extra anonymity.
When it comes to security features you would expect to see from a VPN, CryptoStorm has it all. You can choose between VPN protocols - OpenVPN and WireGuard. OpenVPN is one of the strongest, safest, and most trusted protocols and WireGuard is the newest and fastest. Which you choose will depend on personal preference and planned activities. For example, WireGuard is recognized as the best VPN protocol for streaming. Both of these protocols come with military-grade 256-bit AES encryption, making them incredibly safe to use. It also uses ChaCha, which is similar to AES but better optimized for mobile devices.
CryptoStorm also uses a key encryption system (ECC) for additional security. With ECC, you will have a private key and a public key. This way, you will only be able to decrypt the information if you have the private key. This is an optional feature but highly recommended.
The encrypted DNS servers make it very difficult to detect your actual IP address or location, but leaks can happen and are a risk to users. CryptoStorm has some of the best WebRTC and DNS leak protection that we have ever seen. So even if your data is leaking, it will never be revealed to any third parties.
Malware is the biggest threat online. It can come in many forms, but one of the most common is adware or trackers. This is where your activity is tracked, and you are spammed with somewhat relevant but unwanted advertisements. The advertisements can be for genuine products, or they may be trojans designed to steal your personal and financial information. Either way, you don't have to worry. CryptoStorm has a DNS-based ad and tracker blocker built-in. This is something that many other VPNs don't have, or those that do will charge you extra.
We particularly like the token system network access. This means that minimal financial information is stored. A user buys an access token using one of the payment methods (Bitcoin is recommended) and gets an email with the details. The main issue here is that to send you an email, you will need to provide your email address - so we recommend having a burner. These tokens are deleted regularly, so there is never any trace. Unfortunately, that means if you don't use your token, if you lose it, you can't get it back.
The CryptoStorm kill switch is another fantastic security feature. It's an intelligent tool that detects when your VPN connection drops. A VPN connection drop could result in a data leak or your actual location and IP being exposed. So CryptoStorm kicks in and temporarily cuts your internet connection if it detects an issue with the VPN. This means that you remain protected at all times.
A strict no-logs policy at CryptoStorm means nothing that you do is stored or kept. This includes your actual IP address, accurate location, or any of your browsing history. Even if you have nothing to hide, it's great to know that you are genuinely anonymous and undetectable online. Although many VPNs out there claim to keep no logs, it's not always entirely accurate. With CryptoStorm, you can believe it. CryptoStorm also grants direct access to darknets with little-to-no configuration for the security-conscious who prefer to browse on the dark web. You can also connect to any UDP or TCP port, from 1 to 29999.
Try it now
CryptoStorm VPN Features
CryptoStorm has a minimal number of servers and locations when compared to the market leaders. There are less than 100 to choose from, spread across North America and some parts of Europe. Some of the primary server destinations in Europe include France, Germany, Spain, Portugal, The United Kingdom, and Ireland. Although the geographical coverage should be enough to unblock most streaming platforms, you may run into difficulties during busier periods. This is because large numbers of users are sharing a tiny number of servers.
On that note, speed is something that CryptoStorm could improve on. Overworking the network during peak hours can result in buffering and lag while using the VPN for activities like streaming and gaming. This makes it a less reliable option than some of its competition, but the issue is likely to improve as the selection of servers does.
Unlike some other VPNs, CryptoStorm openly supports torrenting. This is quite rare, as torrents are considered a safety risk to the network and the user. Files can often contain malware like viruses, spyware, and trojans, so some VPNs choose to block torrents entirely. CryptoStorm is so confident in its ability to overcome any threats that it allows its users to download freely. Port forwarding is supported, and the connection is safe from any port fails.
You can pay for CryptoStorm using a variety of different secure payment methods. PayPal and credit cards are accepted, as well as Altcoin and Bitcoin. The crypto options are the best regarding privacy, as it's impossible to trace the transaction back to you. However, your credit card or PayPal information could be identifiable.
CryptoStorm works with Windows, macOS, Linux, Android, and iOS devices. Unlike some other VPNs, it can also be configured to your router and shared across any device connected to the wifi network. The number of simultaneous connections will depend on the subscription option you select. The choice is anywhere from one to six devices. We'll discuss the CryptoStorm apps and their usability later in this guide.
There is a 30-day money-back guarantee with CryptoStorm, which has become somewhat of an industry standard. This means you can make your purchase and try the products without any limitation completely risk-free. If you find that it's not the VPN for you, you can get a no-hassle refund by contacting customer support within the first 30 days.
This brings us to the final point in the features section worth highlighting - CryptoStorm's service and customer support. We can't deny that CryptoStorm falls short of its competitors when it comes to service. There is no live chat functionality, so you can only get in touch via an email ticket system. More on that later.
Summary
Try it now