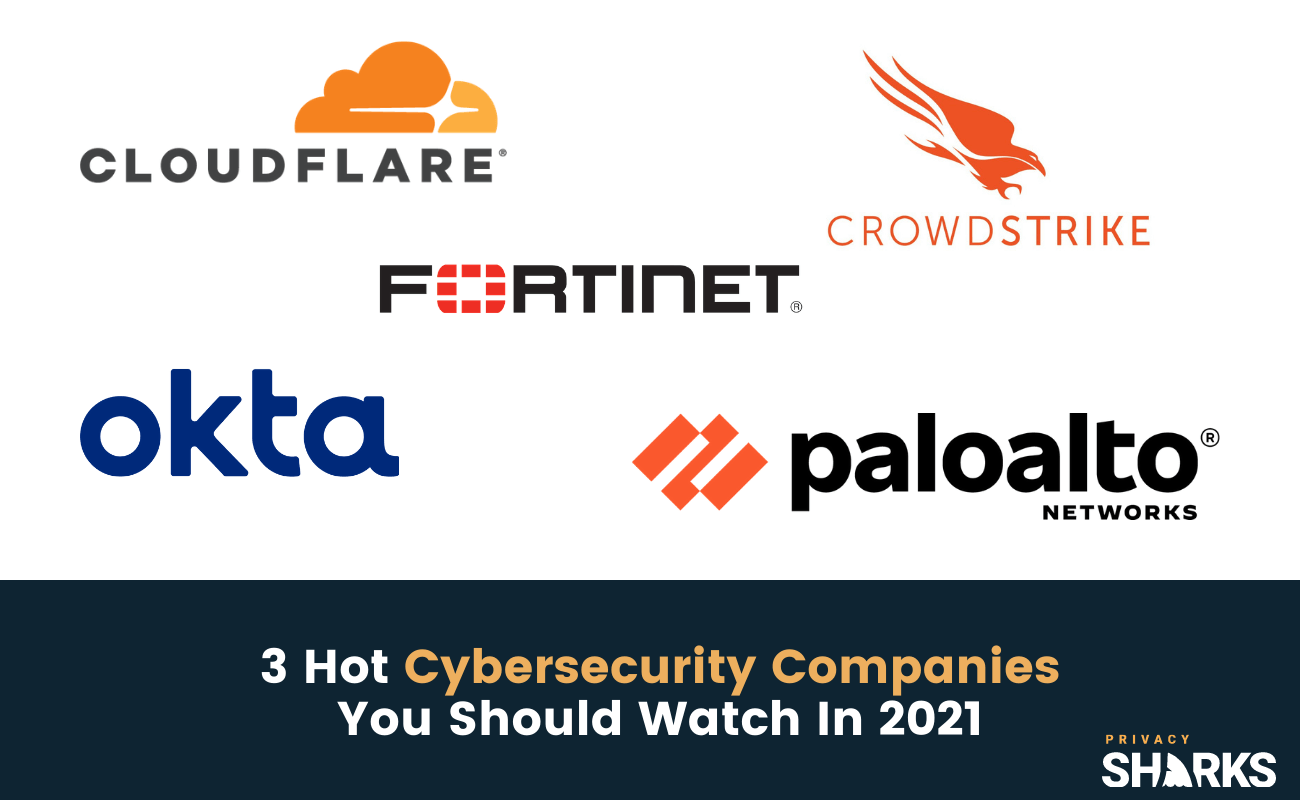 Reading time: 5 minutes
In 2020, the cybersecurity market was valued at $141.5 Billion dollars and is expected to grow to $202 billion in 2021. This growth has been driven by an increase in cyberattacks against both public-sector and private organizations and a lack of qualified cybersecurity professionals in the workforce. With this in mind let's dive into 10 hot cybersecurity companies you should watch out for throughout 2021!
1) CloudFlare (Up 310% since 2020)
Cloudflare is an American company delivering IaaS software such as CDNs, DDoS protection, and general web speed and security optimization of websites. Their stock is up by 500% since the 1st of January and they're not looking back. As of May 2021, Cloudflare has more than 1800 employees around the world.
Cloudflare offers a suite of services to help protect websites from various online threats. The company's network spans 143 points of presence and has over 200 data centers in 52 countries.
They offer protection against DDoS attacks, malware insertion, session hijacking, and web application firewall that can detect common vulnerabilities such as SQL injection.

Cloudflare has successfully defended against a record-setting DDoS attack that reached over 400 Gbps at its peak – the largest of any protected company in history.
The service is free for web hosting companies with less than one million visitors per month, while other protection services cost $20-$200/month each.
2) CrowdStrike (Up 270% since 2020)
Crowdstrike is another American cybersecurity company specialized in recovering from cyberattacks.
The company was founded by George Kurtz and Dmitri Alperovitch in 2011, following the discovery of a group of Russian hackers that had infiltrated the networks of American government agencies.

It is now one of the world's largest cybersecurity firms with over $200 million in financing from Google Ventures and others.
Their services include proactive cybersecurity strategies, cloud-based protection for mobile devices, endpoint detection & response (EDR) capabilities to detect malware on your system or network before it causes damage, targeted attacks identification so you can take appropriate action to defend yourself from breaches as well as threat intelligence research designed to protect against emerging threats like IoT botnets. They also offer penetration testing services that help organizations identify their vulnerabilities and resolve them.
3) Okta (Up 132% since 2020)
Okta is a cloud-based identity management solution that manages user authentication and authorization. Okta is currently used by more than 800 organizations, including General Motors, BMW, Intel Security (formerly McAfee), the Canadian Government of Alberta, Sony Music Entertainment, and thousands of other businesses around the world to secure their IT infrastructure against cyberattacks."

The company offers both on-premises solutions as well as fully hosted models in case you want to keep your data close to home or need it managed remotely from afar.
Okta has been rated one of Fortune's 50 best companies to work for due largely in part to its progressive benefits package which includes unlimited vacation days and remote working capabilities.
4) Palo Alto Networks (Up 50% since 2020)
Palo Alto Networks is a platform with headquarters in California. It is a network and security technology company that was established in 2004. Palo Alto Networks offers what it describes as "next-generation firewalls" for both on-premises use, or to be managed remotely from afar.

In 2015 the company had revenues of $422 million with about 4000 employees globally. That same year they acquired two companies: Invincea (cybersecurity) and Xceedium Inc (software).
The company has been awarded three cloud security certifications by AWS; one for cyber resilience, one for its deep learning engine, and another certification that recognizes their automation system is in compliance with Uptime Institute's Tier IV standard.
5) Fortinet (Up 91% since 2020)
An American multinational corporation with headquarters in California. Fortinet sells and develops cybersecurity solutions such as firewalls, antivirus tools, and VPNs.
Fortinet protects more than one hundred million users from the latest cyber threats. This includes malicious software, viruses, and malware that try to steal your personal information and company data.
They have expertise in VPNs (Virtual Private Networks) which are a fast way of connecting to remote servers with an encrypted tunnel for added security and encryption. Fortinet also offers firewall solutions that will protect you against hackers who want to gain access into your system or network by monitoring traffic going through it.

They offer both hardware firewalls as well as virtual ones so they can tailor their solution based on what is best suited for the customer's needs. The last thing many companies think about when looking at cybersecurity products is mobile protection – but this is one of Fortinets specialties.