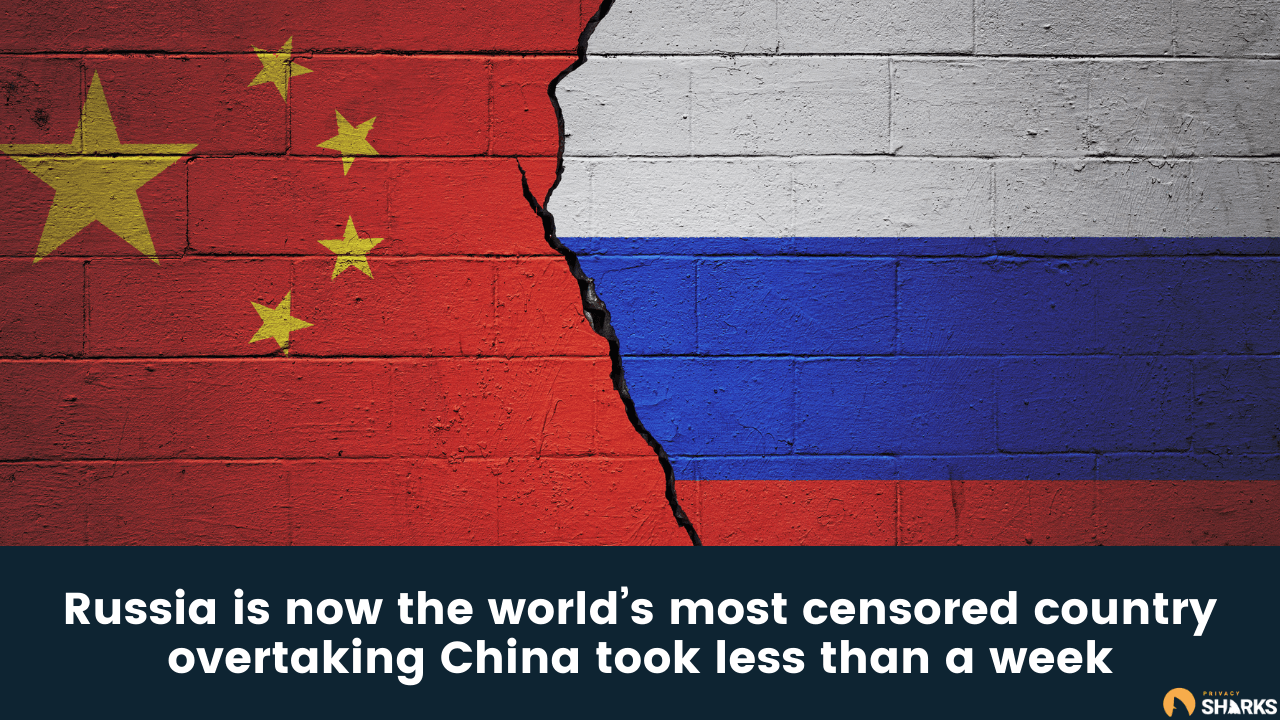 Reading time: 9 minutes
Based on VPN app downloads, search volumes, and interest in Russia, internet censorship has reached an all-time high and Russia has now overtaken Chinese censorship levels for the first time in history.
Not only is the Russian government, like China, censoring foreign websites, but international sites are blocking Russian IP addresses. The combination of these factors has caused a huge spike in VPN use in Russia.
Highlights from this article:
Surfshark VPN has seen a 3500% spike in VPN sales since February 24 (provided by our partner, Surfshark)
RUSVPN has seen a 500% increase in VPN downloads in Russia and Ukraine
Internet censorship and government surveillance in Russia is worse than in China based on VPN downloads and search queries
Internet searches in Russia for 'VPN' increased by 1900% since the start of the Russia-Ukraine conflict
Not only is Russia blocking foreign websites, but western companies are also blocking Russian IPs
Russia now has more online restrictions than in China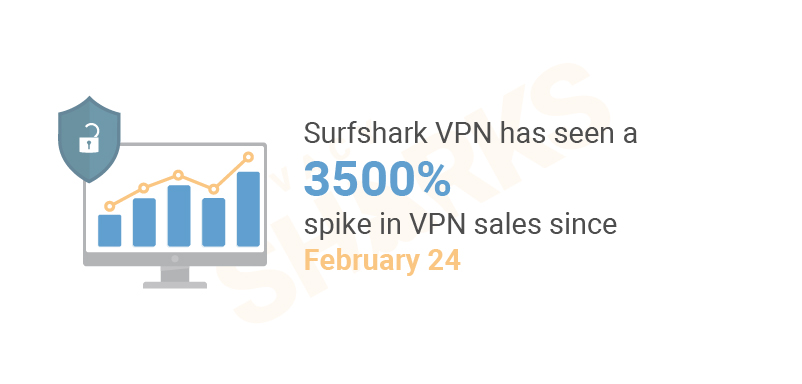 VPN sales in Russia are skyrocketing
An indication that Russia has overtaken China regarding censorship is the increase in VPN app downloads in the country. We reached out to Surfshark VPN, which has recorded a considerable increase in Russian traffic over the past month. Surfshark calls this increase in downloads "unprecedented" and a clear indication that Russians are "actively looking for ways to avoid government surveillance and censorship."
The Surfshark team has provided us with the following statistics:
Average weekly sales have increased by 3500% in Russia since February 24
The largest spikes in sales were on March 5 and 6, when Russia announced it was blocking Twitter and Facebook
The last time Surfshark saw a dramatic increase in VPN sales was when China passed the Hong Kong Security Law in May 2020. VPN sales jumped to 700%
An anonymous Russian user told the Surfshark team that censorship was the main reason for purchasing the VPN. He stated, "War started, and I'm worrying the government may start to restrict access to the internet even more than ever before."
Surfshark isn't the only major VPN service that has seen a massive spike in downloads from Russian users. We also reached out to our partners at RUSVPN who have reported a 500% increase in VPN downloads in Russia and Ukraine. What's more, RUSVPN now has 95% more active users in Russia than in China indicating Russian censorship is at an all-time high.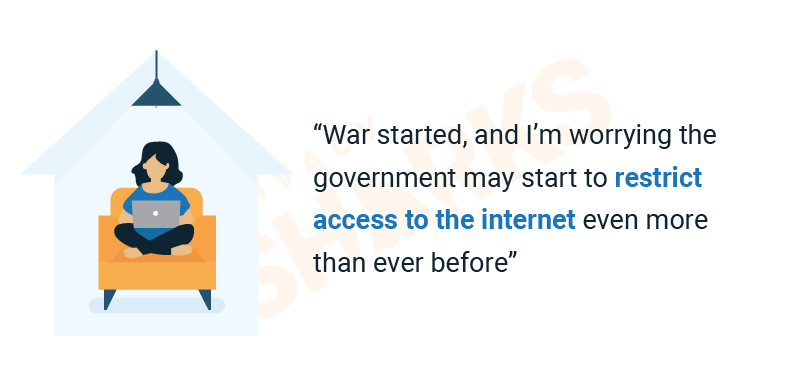 Russian censorship is now worse than in China
It seems impossible that Russia could overtake China in terms of internet censorship. However, this is exactly what has happened over the last month. Now, for the first time in history, China is no longer the most censored country based on VPN demand.
Google Trends reveal that since the start of the Russian invasion in Ukraine, internet searches for VPNs in Russia have increased by 1900%. Interest in VPNs is now 45% higher in Russia than in China, with VPN Google queries in China and Russia standing at a 69 point value and 100 point value, respectively.
The evidence from Google Trends and VPN providers suggests that Russian censorship has overtaken China in less than a month. However, the figures also reveal that Russians are resisting the new internet censorship rules being implemented. This could make it harder for the Kremlin to continue operating Chinese levels of censorship.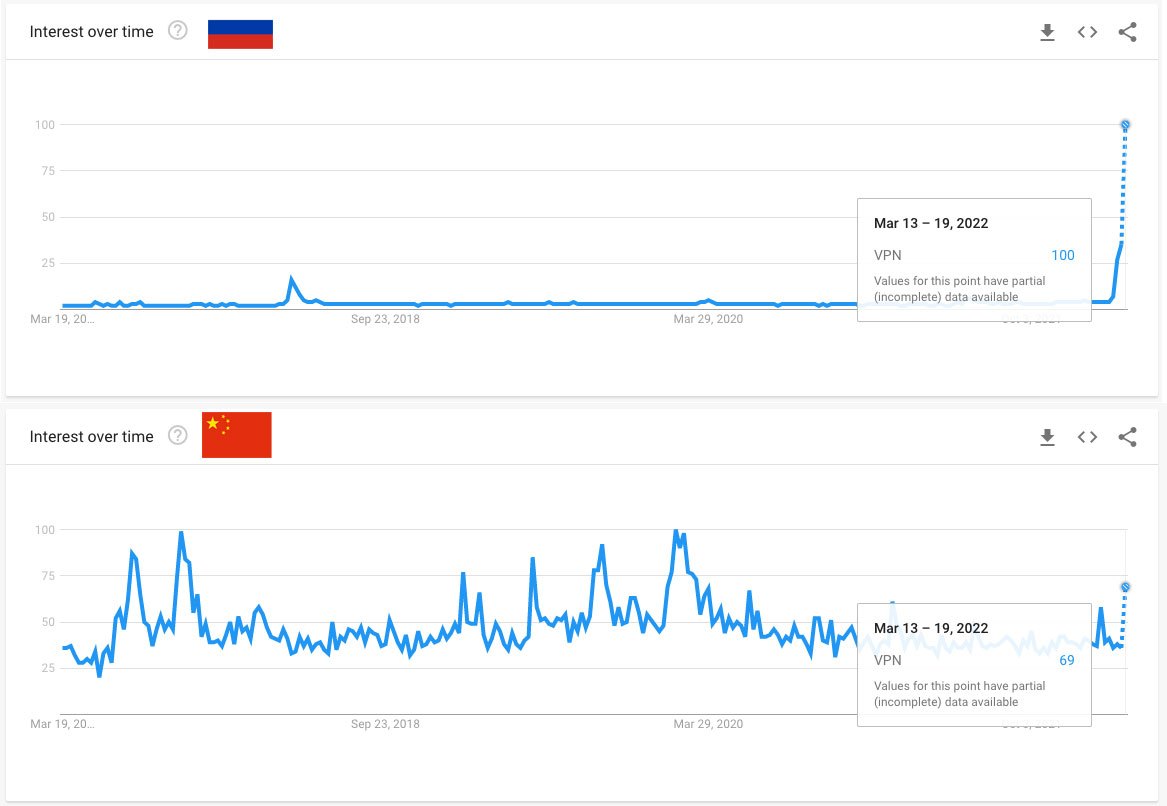 Censorship in Russia is nothing new
While censorship in Russia has always existed, Russians have historically had more freedom online than Chinese residents. For example, Russia previously allowed access to social media sites like Facebook and US news which Chinese residents cannot access.
However, the stark contrast between Russia and China is that Chinese citizens have experienced internet censorship since the 1990s. As censorship has gradually increased, residents have become accustomed to using the internet without access to international sites. On the other hand, Russia has taken away its residents' internet freedoms overnight, which will feel much more restrictive.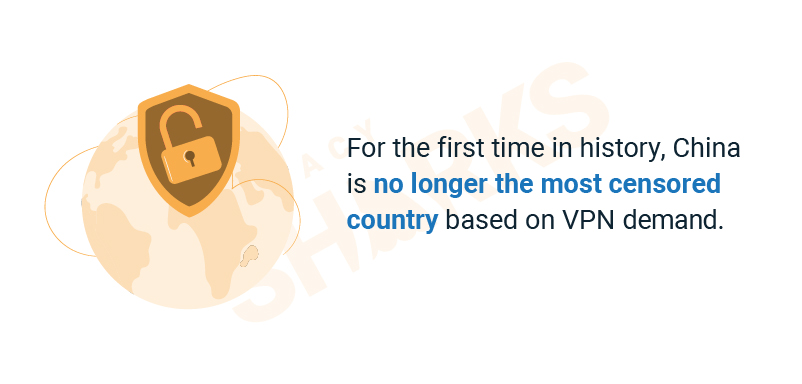 Russian censorship: what's happening?
On Google Trends, the search term 'VPN' has increased to a 100 point value in Russia over the past month thanks to an outbreak of new internet restrictions. Since Russia's invasion of Ukraine, censorship measures have rapidly stepped up. One reason for this is to stop Russians from reading reports about the war in Ukraine, which Russia is instead referring to as a "special military operation."
The Kremlin has blocked access to multiple international news outlets such as the BBC, Deutsche Welle, and Voice of America. It has also blocked independent Russian news sites and banned journalists from spreading facts about the war. This has led to many journalists fleeing Russia, fearful of what consequences await them if they remain in the country.
Russia has blocked social networking sites
Not only can Russians no longer access international and non-state news sites and channels, but Russia has blocked the use of most social networking platforms. Facebook and Instagram have been blocked in Russia after Meta (the company that owns Facebook and Instagram) gave the green light for Facebook users to spread pro-Russian hate posts on its platform. Not only this, but Russian authorities have also restricted access to Twitter.
It is interesting that Russia has blocked the use of social networking sites, given that the government has been accused of using them in the past to interfere in foreign elections and spread misinformation. However, social media platforms are commonly used to engage in freedom of speech. By preventing Russians from accessing these networks, the Kremlin is suppressing their ability to share first-hand accounts of what is happening in Russia and Ukraine.
YouTube and Russia
Interestingly, Russia has not banned YouTube – yet. YouTube has blocked access to Russian news channels, RT and Sputnik in Europe, and had previously paused AdSense revenue on these channels using the "extraordinary circumstances in Ukraine" as an explanation. Given that Russia has blocked Facebook and Instagram in response to similar actions, many are wondering why YouTube is still available.
One reason is that YouTube is the 3rd most popular website in Russia according to analytic sites such as Similarweb and Alexa. In contrast, Instagram is the 9th most popular site in Russia, and Facebook is the 12th (according to data from Similarweb).
Given that the Russian population has already had their internet access dramatically reduced in less than a month, by Russian authorities and international companies, perhaps the Kremlin is hesitant to block access to one of the most used platforms in Russia. Doing so could spark mass uprisings from the Russian people, who have already had their internet freedoms severely limited.
However, given Russia's track record so far with global platforms like Facebook and Instagram, we may see a YouTube ban in the near future.
Sanctions have increased VPN use in Russia
Another reason for increased VPN interest in Russia is due to international sanctions against the Russian community. TikTok, the popular Chinese social media app, has restricted Russian users from posting content on the platform. Netflix has also temporarily suspended services in the country, and Twitch is blocking payments to Russian streamers.
Given that Netflix and Twitch are unavailable in China, many are drawing new comparisons about censorship in the two countries. However, it is important to note that sites like Twitch and Netflix don't block Chinese IPs – it is China that blocks these sites. In the case of Russia, most sites are blocking access from Russia in response to the Ukraine invasion.
Russian gamers are using VPNs to overcome restrictions
Russian gaming fans have also felt the effect of sanctions. Amid pressure from the international gaming community, Activision Blizzard and Epic Games have paused sales of games such as World of Warcraft, Overwatch, Diablo, and StarCraft.
Russian players have also been banned from Fortnite tournaments, with Russia being completely cut off from the online gaming world and now facing more online restrictions than China.
While one effect of international sanctions is the isolation of the Russian internet community, another is increased VPN use. As the Google Trend and Surfshark statistics reveal, VPNs are being used more so that Russians can continue to go about their daily internet activities and bypass the global sanctions facing Russia at the moment.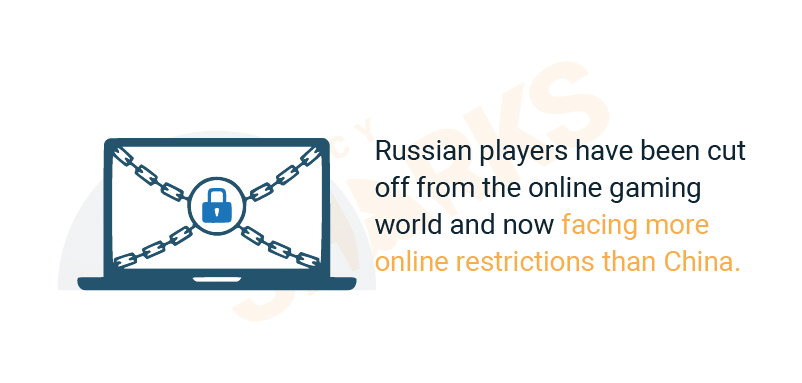 Does Russia block VPNs?
Many VPN services are banned in Russia, but the Kremlin has not yet blocked VPNs entirely. Unlike the Great Firewall of China, which actively detects and blocks unapproved VPNs, many VPNs can still be used in Russia to help Russians overcome restrictions and access information about the Russia-Ukraine war. This means that many Russians will likely be overcoming online censorship in Russia with the help of VPNs.
Therefore, there is a silver lining for Russian residents, which internet users in China don't have. VPNs, like Surfshark, can assist Russians in bypassing censorship. Unlike China, the Russian Federation currently lacks an effective nationwide firewall to block VPN traffic.
Sources:
https://www.alexa.com/topsites/countries/RU
https://www.similarweb.com/top-websites/russian-federation/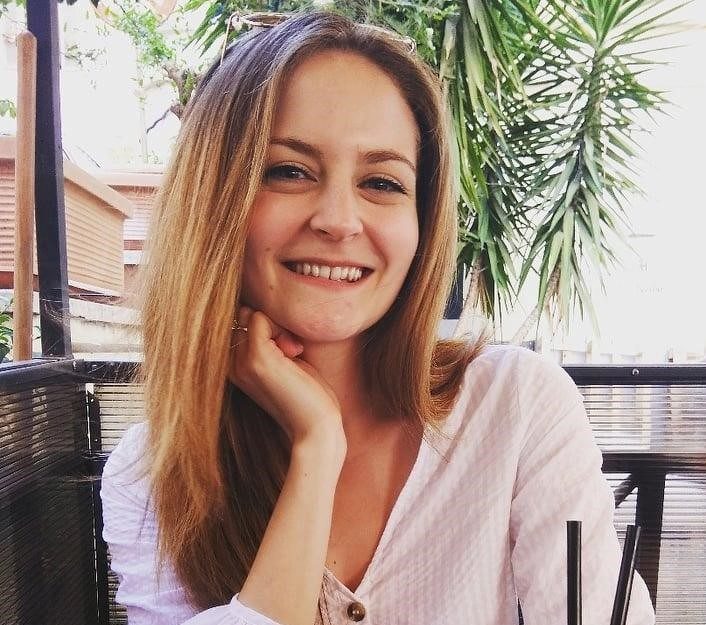 Author Madeleine Hodson
Hi, I'm Madeleine. I'm a British writer with a global background, currently based in the UK. I have always been interested in the online world and how it connects people worldwide. My keen interest in the internet led me to ...
Read more about the author